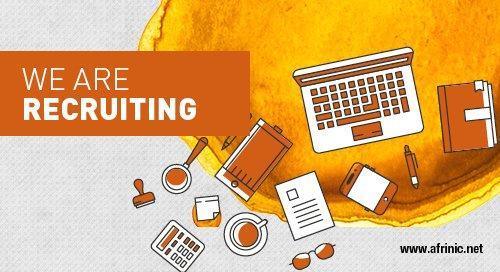 The Data Manager will ensure the efficient management of databases at AFRINIC, document standards and processes relating to data architecture.
He/she will organise, store and analyse data to ensure timely production of reports and statistics to meet reporting needs and work on data-related projects.
If you wish to apply for this position, please send a letter of motivation and your CV, both in English, by email to This email address is being protected from spambots. You need JavaScript enabled to view it., or to the following address:
Human Resources & Administration Manager
11th Floor, Standard Chartered Tower,
Ebène Cybercity,
Ebène
Mauritius
Please indicate in the subject title of your email the job reference only: afjob-DM-20200131
APPLICATION DEADLINE: 10 February 2020
Start date: As soon as possible
Interviews will be held at AFRINIC office in Ebène and telephone interviews will be conducted for candidates outside Mauritius.
AFRINIC reserves the right to call only the best-qualified candidates for an interview and not to make any appointment following this advertisement.
---
Job Background
Reporting Structure
Job Summary

Click image to enlarge

Essential Qualifications and Work Experience

A degree in IT or an equivalent amount of related technical coursework and work experience in a related field. A Masters Degree will be a plus
A minimum of 5 years of experience in a related field
Experience with data reporting tools. Knowledge of UNIX/Linux operating systems including command language and file editors.
Having business intelligence, data mining, reporting experience.
Ability to perform database programming, optimization and tuning.
Knowledge of a programming language such as PERL, PHP, Java.

Reports to Applications Unit Manager
Number of Direct Reports - None
Key Responsibilities & Competencies
Key Responsibilities
Title
Description
Weight
Reporting

Datastore design for reporting.
Data analysis.
Present actionable information.
Generation of reports to specifications.
Data Visualisation
Designing and implementing a central database repository.
Work on data extraction, transformation and loading into the data warehouse to meet changing reporting needs.
Data mining to identify patterns and trends or make predictions and give recommendations to management.
Establish rules and procedures so information can be shared securely and responsibly.

40%
Database maintenance

Database optimization.
Database security.
Database clustering and high availability.
Database monitoring Automation of repetitive database maintenance tasks.
Ensuring that a strategy for database back-up and recovery is in place.
Database user accounts management

20%
Project Management

Management of data-related projects

20%
General Responsibilities

Collaboration and involvement in other applications unit projects where applicable.
Ensure that all processes are clearly documented as per ISO 9001 standards
Support staff in performing data-related tasks. Develop solutions for data-related problems
Perform other duties as required and assigned by the Applications Unit Manager, Head of IT & Engineering and CEO

20%
AFRINIC Expectations
In carrying out essential duties, an individual should demonstrate a commitment to AFRINIC's mission and values, working as one team towards delivering excellence in service.
This includes but is not limited to:
Demonstrates a shared commitment to fulfilling the team and organisational goals co-operatively
Strives for excellence and focuses on continuously improving outcomes
Displays professionalism through competence, high standards, self-management and a service ethic
Displays integrity through ethical behaviour, constructive contribution, and use of appropriate channels
Makes responsible use of member funds through efficient use of time, funds and resources
Models respect by being punctual, reliable, prepared, courteous, and responsive