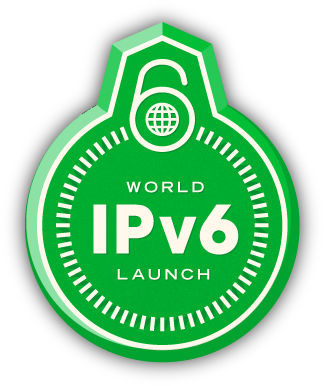 We're celebrating the fifth anniversary of World IPv6 Launch today!
More than twenty years ago, engineers had already realised that IPv4 would not serve the needs of the expanding Internet and set about designing IPv6 to cater for the increasing number of users and devices getting online. Since 2015, AFRINIC has been the only Regional Internet Registry with enough IPv4 space to continue using the traditional distribution rules. On the 3rd of April 2017, this changed and we reached a historic milestone. AFRINIC's pool of available IPv4 address space had less than one /8, around 16 million addresses, left in it which triggered Phase One of our IPv4 Exhaustion Process.
Deployment Acceleration
While community-defined policies ensure that AFRINIC's remaining IPv4 addresses will be distributed equitably, we cannot predict how long our supplies will last and the message is now clear for Africa: IPv6 deployment cannot wait. If you have not deployed IPv6 on your networks you cannot afford to delay any more. Although IPv6 has been around for many years, deployment in our region has been slow. We have however seen some acceleration now that our supply of IPv4 is diminishing. About 41% of AFRINIC Members have some IPv6 space and about 18% of networks in Africa are announcing an IPv6 prefix. However, only 0.25% of Internet users in the region are able to connect using IPv6, which is well behind the global average.
Clear Message
For years, AFRINIC has spread the message about the urgent need to deploy IPv6. We offer free technical training on IPv6 deployment and have trained over 3,000 engineers in 40 economies since 2010. Our recently launched Certi::6 platform also offers a globally recognised IPv6 Certification programme.
An IPv6-based Internet is the future for Africa and the world and without it, our networks will not be reliable and secure. Options for access and opportunities to innovate online will be limited if we do not ensure that our networks are IPv6-ready.
Make today, the 5th Anniversary of the World IPv6 Launch, the day you take action:
Network Operators: Get IPv6 address space, deploy it and offer IPv6 to your customers.
Businesses: Ask your ISP for IPv6 connectivity. Make sure your website is accessible over IPv6 and deploy IPv6 on your office network.
Regulators: Encourage competition, encourage Internet Exchange Points and encourage open Internet access.
End users: Ask your Internet provider when they plan to provide IPv6 for customers and let them know there is consumer demand.
Have you deployed IPv6?
We're looking for guest bloggers to share their IPv6 success stories on the AFRINIC Blog. You can write in French or English and we'll offer editorial assistance. Get in touch with us at This email address is being protected from spambots. You need JavaScript enabled to view it. We're celebrating the fifth anniversary of World IPv6 Launch today!
More information: