JOB DESCRIPTION
Department: CEO's Office
Job title: Legal Officer
1. Job Background
Job Purpose/Mission of Role

The Legal Officer is a law generalist who provides legal services and compliance support, including legal analysis, preparing related correspondence as necessary to the organisation and its employees. The Legal Officer will work in collaboration with AFRINIC's external Legal Adviser, and will engage in liaison withoutside counsel and competent legal entities and governmental authorities as appropriate.

The Legal Officer keeps AFRINIC informed on current legal, regulatory, risk, and compliance issues that may affect it. He/She will develop policies and procedures regarding legislations, risk mitigation, compliance, contract and legal matters as needed and will follow-up on timely implementation of these practices at AFRINIC.

The Legal Officer may also be engaged in collaborating with the Human Resources & Administration Manager, helping to analyse and collect evidence to participate in staff hearings.

He/she advises the organisation (The Management and The Board of Directors) on various matters so that there is minimum legal exposure and liability.

Reports to

CEO

Number of Direct Reports

N/A

Essential Qualifications and Work Experience and Requirements

Qualified to practice as a barrister at law in Mauritius;

Minimum 2 years of experience as a legal practitioner and fully conversant with all aspects of Mauritian Law.
Is a member of the Mauritius Bar
Holder of an LLB(Hons) degree and a Certificate of Competency delivered by the Council of Legal Education of Mauritius or any similar vocational training institution
Excellent editing, legal research, analysis, and writing skills;
Ability to travel to various locations to attend AFRINIC meetings and possibly industry related conferences.
2. Reporting Structure: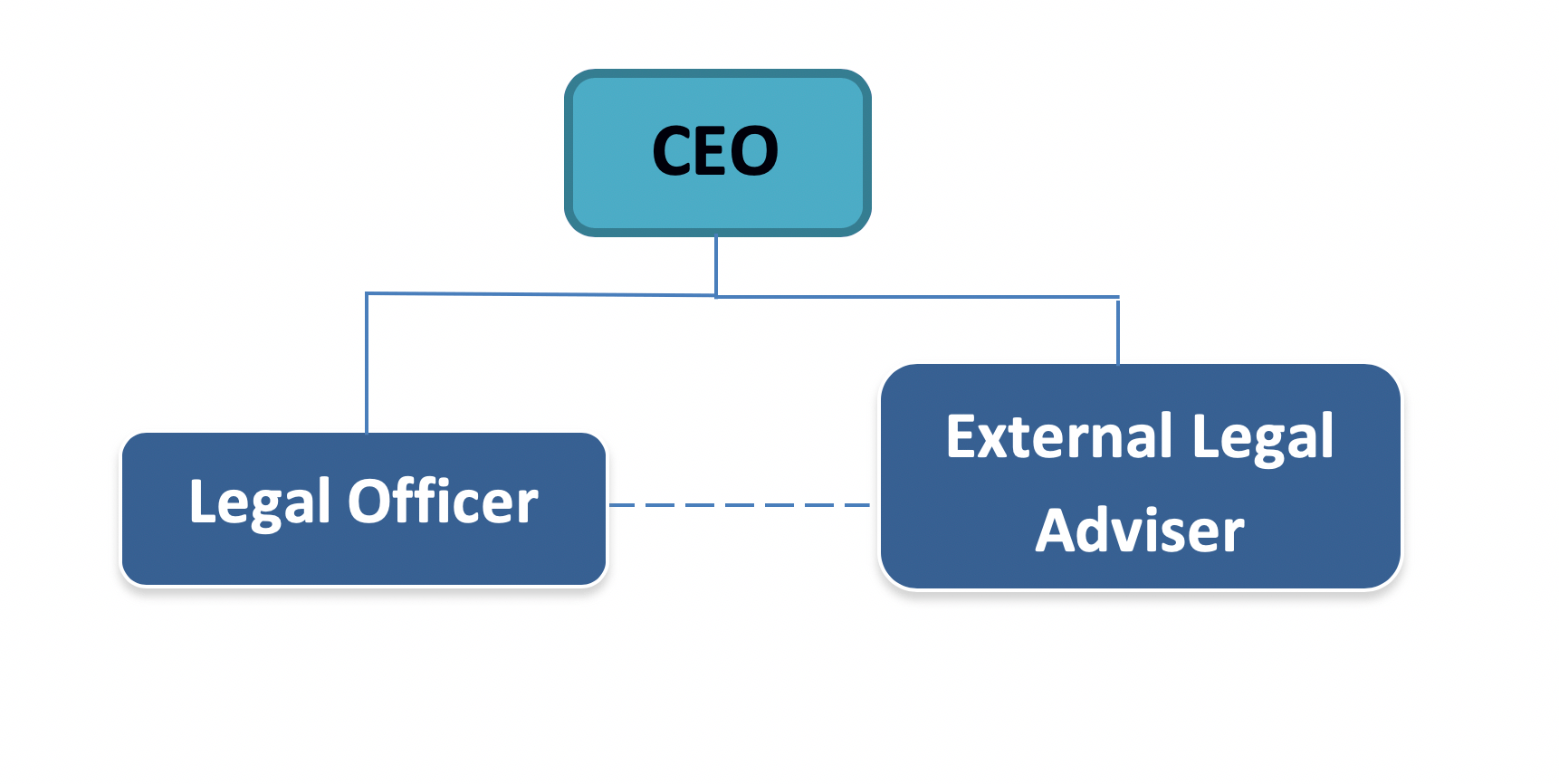 3. Key Responsibilities
Title

Description

Weight

Drafts Contracts, Corporate Policies, By-Laws and Legal documents and procedures

Performs a Corporate Inventory of the types of documents that AFRINIC currently collects.
Draft, review, comment on, and periodically update legal documents, including contracts, agreements, terms of reference, perms and conditions of service, policies and procedures, and corporate governance documents.
Draws up formalities regarding the settlement of disputes and monitor the implementation of the legal clauses.

25%

Ensures Compliance with AFRINIC policies and with Corporate Laws and other applicable Legislations

Analyses AFRINIC's policies to acquire a thorough understanding and knowledge of the operations of AFRINIC and its various interactions with the community, its members and other relevant stakeholders.
Uses this knowledge to provide guidance to the Board, Management and the outside community whenever required.
Work with fellow staff to review and provide feedback on proposed AFRINIC policies and implement new AFRINIC policies.
Works with relevant departments to review AFRINIC's Terms of Conditions for services (WHOIS, RSA, etc..)
Reviews all Corporate Policies, processes and practices to make sure that AFRINIC is working in accordance to various applicable legislation and regulations.
Advises Management and the Board on every legal matter such as legal risks, compliance with regulations and corporate governance.
Conducts legal analysis and research on various legal matters that currently affects or new legislations which may affect the organisation in the future when becoming in force.
Provides advice on different legal issues and takes a leading role in drafting legal opinions, memoranda and other briefing documents.

25%

Provides Counsel for Employee and Management Conflicts/Litigations and other litigations with external third parties

Works in collaboration with the Human Resources & Administration Manager in matters of employee incidents, labor disputes or other employee relations conflicts.
Applies knowledge of employment laws to resolve conflicts and ensure compliance.
Advises the organisation so that there is minimum legal exposure and liability.
Advises Management and the Board of Directors whenever required on matters of disputes with third parties.

25%

Meeting support

Draft agendas and prepare supporting documents for meetings as required.
Attend meetings and take minutes as required.

15%

General Responsibilities

Ensure that all processes are clearly documented as per ISO 9001 standards and other standards as agreed.
Lead special projects related to the above responsibilities as assigned.
Perform other duties as required and assigned by the CEO.

10%
4. Competencies
Technical

Ability to independently research and provide recommendations
Excellent communication and negotiation skills
Must demonstrate strong judgments skills and ability to be objective
Strong sense of ethics and moral values
Being able to distinguish important facts from irrelevant details
The ability to solve problems
Discretion, diplomacy and tact

Behavioural

AFRINIC's Behavioural Competencies as applicable to all staff and as revised from time to time.
5. AFRINIC Expectations
In carrying out essential duties, an individual should demonstrate commitment to AFRINIC's mission and values, working as one team towards delivering excellence in service.
This includes but is not limited to:
Demonstrates a shared commitment to fulfilling team and organisational goals co-operatively
Strives for excellence and focuses on continuously improving outcomes
Displays professionalism through competence, high standards, self-management and a service ethic
Displays integrity through ethical behaviour, constructive contribution, and use of appropriate channels
Makes responsible use of member funds through efficient use of time, funds and resources
Models respect by being punctual, reliable, prepared, courteous, and responsive
Applications:
If you wish to apply for this position, please send a letter of motivation accompanied by your CV, both in English, by email to This email address is being protected from spambots. You need JavaScript enabled to view it. , putting as email subject below job reference:
afjob-lo-09042019
APPLICATION DEADLINE: 30th April 2019
Start date: As soon as possible
Interviews will be held at AFRINIC office in Ebène or telephone interviews will be conducted for candidates outside Mauritius.
AFRINIC reserves the right to call only the best qualified candidates for an interview and not to make any appointment following this advertisement.