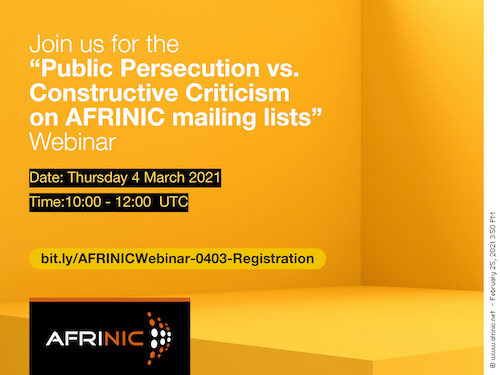 AFRINIC would like to invite you to an upcoming webinar to consult with its community on the topic of ''Public Persecution vs. Constructive Criticism on AFRINIC mailing lists", scheduled on Thursday 4 March 2021.
After several concerns raised from community members on the virulence of exchanges on AFRINIC mailing lists, AFRINIC had to make very difficult decisions regarding how to best apply the community code of conduct to the public mailing lists in an attempt to safeguard the community from being subject to these inappropriate behaviours while allowing people to express thoughts and critics freely. https://afrinic.net/code
AFRINIC does not take such decisions lightly and is in need of guidance from the community on the best way moving forward on dealing with the cases that clearly mix public harassment with useful feedback.
Community members are invited to discuss measures to foster a safe and all-inclusive environment where community members, volunteers as well as AFRINIC staff feel supported and comfortable serving this community and exchanging ideas without the fear of being publicly harassed and personally attacked.
It is key that we as a community have clear guidelines that allow us to prevent constructive criticism from turning into public persecution and slander. This is key to the creation of a safe and dynamic environment where opinions and ideas can flow freely and openly without fear of attack.
House rules

Kindly note the house rules of this session please:

We would like all participants to mute themselves upon entry
Participants will be allowed to share their comments only during the Open mic & Q&A session
Participants are encouraged to raise their hands prior to any comments/questions
The moderator shall state your name before you are allowed to speak
Have your earphones connected especially for the Open mic/Q&A session to allow interpreters/ captioners to hear you properly
Respect the Code of conduct (Respect each other )
For interpretation, English speakers should on the English Channel and French speakers on the French channel
To choose the Interpretation channel, please click on the "Globe Icon" on your bottom right and select your preferred language
Please note that this session is also being captioned and you will see the text on the bottom of your screen
Please note that this session is being recorded
In case you have any issues with audio we would recommend you to try login again
Please do not hesitate to chat directly with Bhavna, Susan or Brice about any issues during the meeting

Language: English (Interpretation in French audio will be provided)
Target: AFRINIC community members and any other person interested in how AFRINIC manages mailing lists
Register in advance for this meeting at https://us02web.zoom.us/meeting/register/tZwpduquqjkvE9Zjjv74MC33wGJHRcea2nRV
After registering, you will receive a confirmation email containing information about joining the meeting.

---

Time:

10:00 - 12:00 UTC
(Ghana, Côte D'Ivoire)
11:00 - 13:00 UTC WAT
Nigeria, Cameroon)
14:00 - 16:00 UTC SAST
(South Africa, Eswatini, Lesotho)
15:00 - 17:00 UTC EAT
(Kenya, Uganda)
14:00 - 16:00 UTC+4
(Mauritius, Seychelles)