AFRINIC Research and Innovation Lab supports AFRINIC's role as a Network Information Centre (NIC) by providing network operators, governments, regulators and other stakeholders the information and evidence needed to strengthen the Internet ecosystem at regional, continental and international levels. AFRINIC Labs conducts public-interest research on key areas such as Internet quality and performance, security, cloud computing and Internet access and is actively engaging with Internet standard bodies (for e.g. IETF, W3C, etc) to keep abreast of the latest technological changes and innovation. It is actively collaborating with regional and international research and academic institutions to conduct both scientific and policy-oriented research on the evolution of the African Internet ecosystem. AFRINIC Labs will contribute to gathering up-to-date Internet-related datasets through measurements and other sources and will establish a repository of information to further promote research, innovation as well as informed policy formulation.
Topics and Perspective
Research topics and perspective
AFRINIC identified four main areas of research, which include Internet Technical Infrastructure, Internet Access, Internet Policy and Governance, and Internet Resilience. For each of the four core research areas, one lead programme or project is designed to shape the profile of an area and further research initiatives are developed through this programme. As shown in the figure below, Internet Consumption, as well as Coordination and Decision-Making, are two overarching research themes that are relevant to all the four research areas highlighted. These two research themes not only overlap and link the various research projects together but they also stimulate interdisciplinary research that contributes to the strength of the AFRINIC research capabilities. The research themes also form the important building blocks for the evolving profile of AFRINIC research within the emerging global network of Internet research institutes. As our research programme evolves, we expect to develop more cross-cutting topics and concepts in the field of Internet research.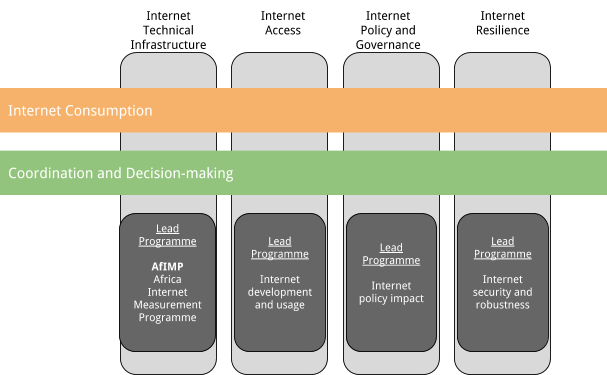 Internet consumption
The central theme to the research agenda will be to increase and improve Africa's access to the Internet through evidence-based policy advocacy and Internet regulation. Better interconnectivity within Africa should encourage creation, sharing and consumption of locally produced content. Improved access should mean that rural and poorer communities also enjoy high quality and affordable Internet access that allows access to local as well as global contents.
Coordination and Decision-making
The Internet, as an ecosystem made up of a wide variety of participants some with conflicting agendas, needs proper coordination to ensure that the African Internet continues to develop in a manner that is fair and sustainable for the benefit of all the stakeholders involved. While the Internet governance forums focus on community participation in Internet policy formulation, AFRINIC is in a good position to coordinate technical decisions and participation of all Internet providers in bringing needed improvements to the continent and the global Internet. It is important for AFRINIC to expand its technical awareness and monitoring of the African Internet topology, and to help promote evidence-based technical decisions among Africa's Internet players.