How to Create Mntner Object on AFRINIC whois database (Authenticate using password)?
The update is usually done by a person, who will determine the password that shall be used.
Objects are protected by a mntner, and they shall contain a reference to the mntner usually in the form of mnt-xxx (examples are mnt-by, mnt-lower, mnt-routes, mnt-domains etc)
Follow the steps below:
A) Generate the BCRYPT hash of your password. Use the tool at https://www.afrinic.net/whois/utilities#crypt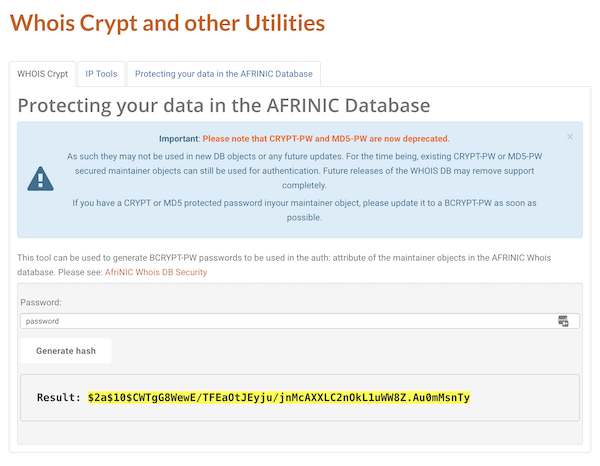 Note: The clear text password will be required whenever you update objects that are protected by the maintainer.
B) Please retain this password, if the maintainer belongs to your organisation, please ensure that it forms part of your organisation's password policy.
C) Load the mntner object template into the whois web client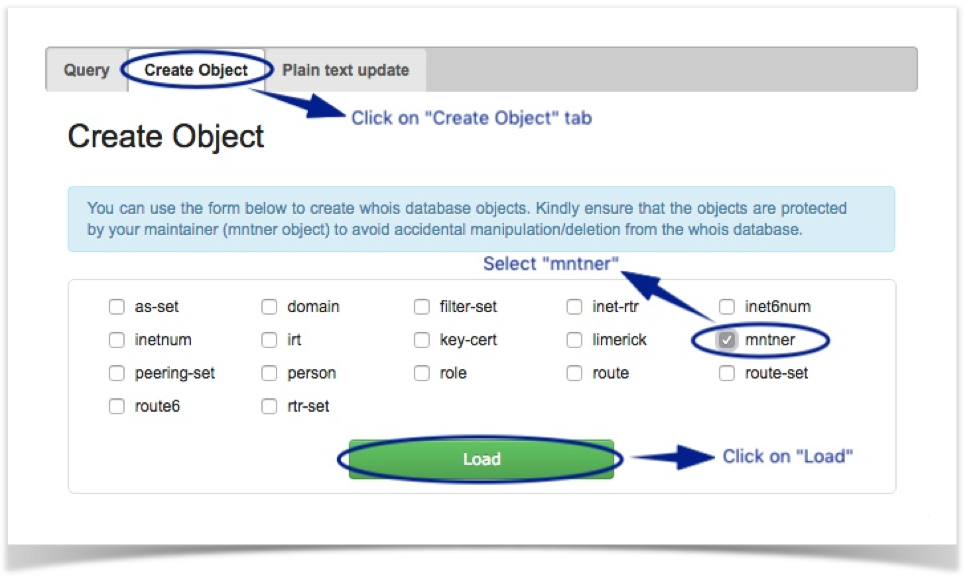 D) Fill and submit the object template with specific data. (If in doubt what to fill for a specific attribute value, hover your cursor over the templates' attributes on the right for more details)

1. The "mntner" attribute is a unique identifier of the mntner object. Recommended format is three words separated by hyphens(e.g AFRINIC-JS42-MNT)
2. The "descr" attribute: A short description of the mntner object and the name of the organisation associated with it.
3. The "admin-c:" attribute: The NIC-handle of an on-site contact 'person' object.
4. The "upd-to:" attribute: The email address to be notified when attempts to update objects protected by the mntner is rejected due to a lack of authentication.
5. The "auth:" attribute: Scheme used to authenticate update requests. Option to use is BCRYPT
6. The value of "mnt-by" attribute can be the same as value of "mntner" attribute.
7. Fill in "password" field with your clear text password.
8. complete the "changed:" attribute with the email and date of the person making the changes (e.g. changed: This email address is being protected from spambots. You need JavaScript enabled to view it. 20130731). If the date is not specified, it will be system generated.
9. The "source" field is already filled for you.
10. Click on "Create" when all the required attribute values have been filled.
E) The mntner object template will be shown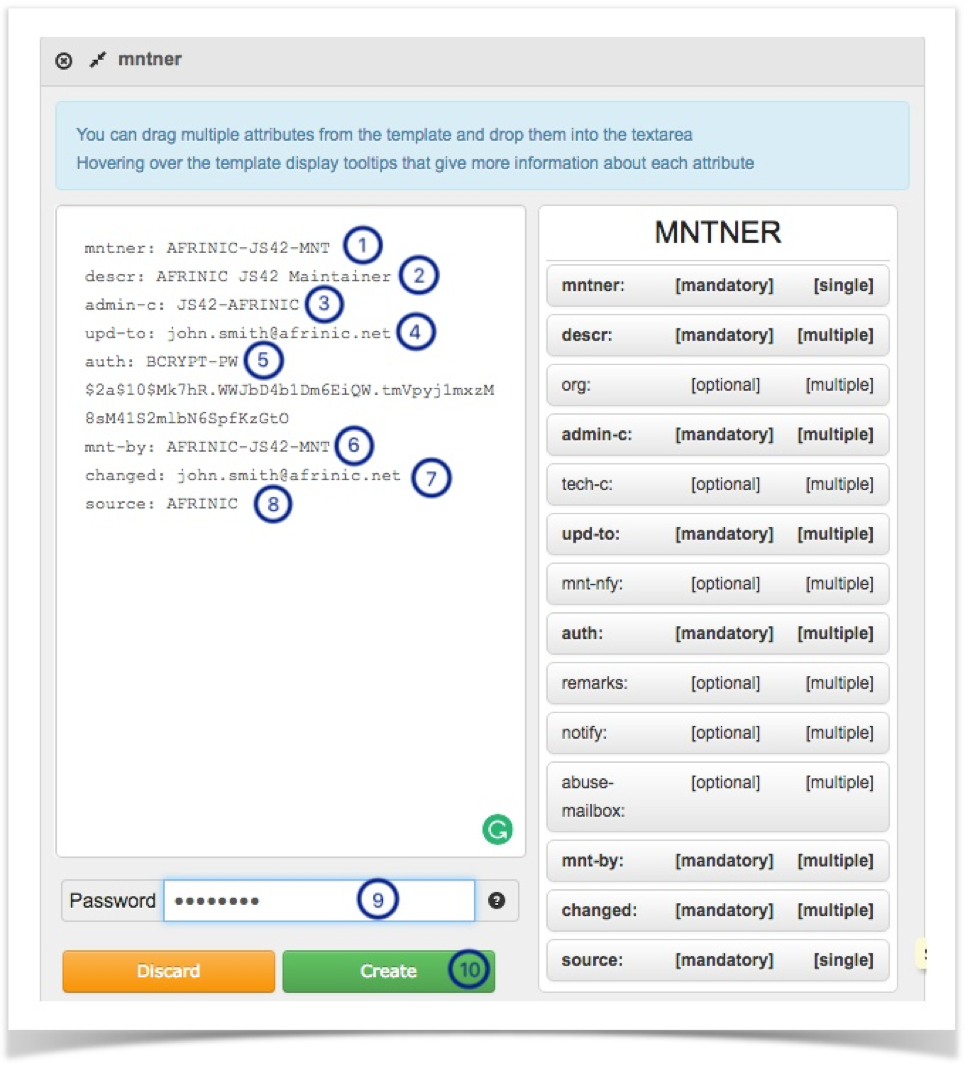 F) After successful creation of the Mntner object, you shall get the screen below;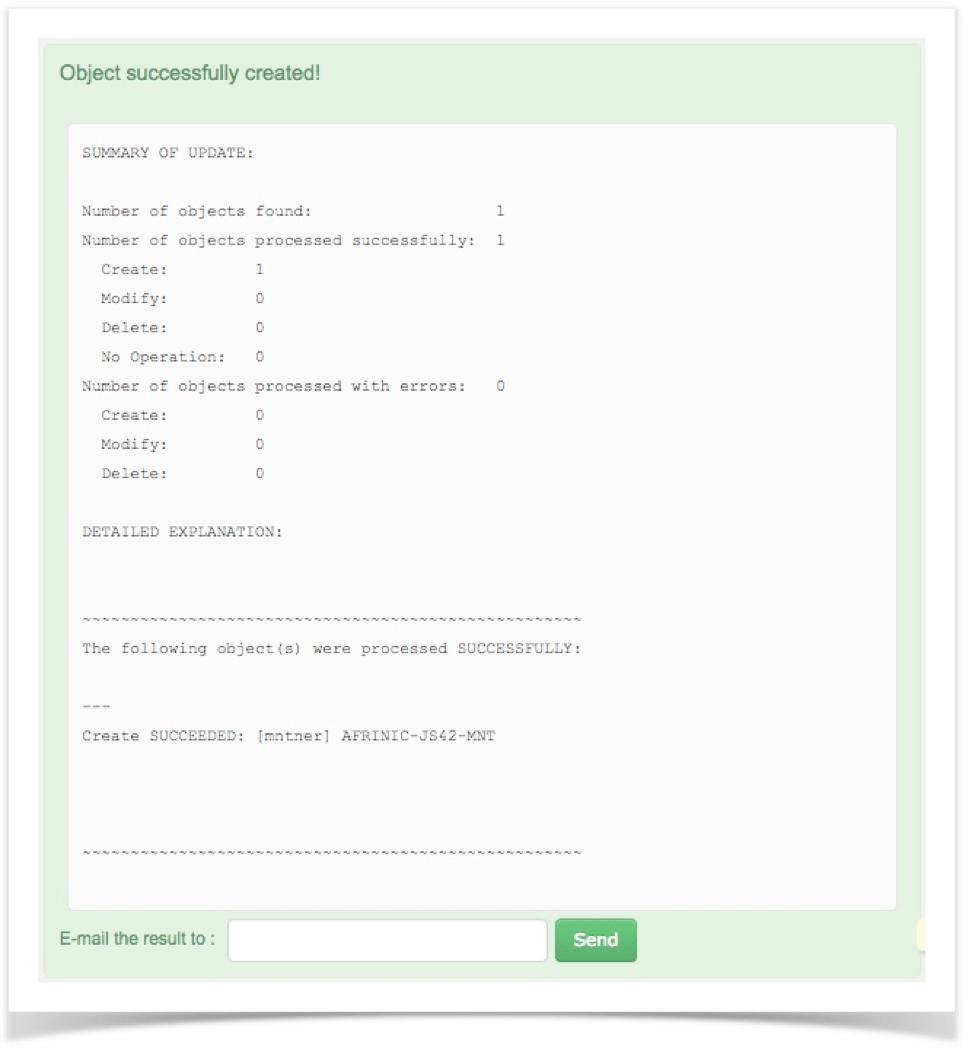 G) You may query the Whois database to verify the Maintainer object. E.g the query "AFRINIC-JS39-MNT" with the "-rB" flags will output the current version of the object in the database.
At this point, you have successfully created a mntner object. However, it is not protecting any other objects in the database except itself. If you wish to use the newly created object, please send an email at This email address is being protected from spambots. You need JavaScript enabled to view it. and mention your Org-hdl and the IP resource objects in which you want the mntner to be added.